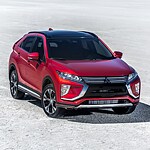 The up-and-coming Mitsubishi Eclipse Cross compact SUV enters its third year on the market poised to make a splash in the highly saturated, wildly popular small crossover SUV segment. The Eclipse Cross pays homage to its iconic namesake sports car line, enlisting sleek, aerodynamic exterior styling along with turbocharged acceleration and precision handling. Prospective compact SUV buyers looking to get the most for their money should strongly consider the Mitsubishi Eclipse Cross due to its sporty style and performance, value-minded affordability and plethora of premium amenities.
All Eclipse Cross models come well equipped with a litany of premium tech features, most notably standard-equipped seven-inch touchscreen infotainment featuring Android Auto and Apple CarPlay integration. The Eclipse Cross incorporates Mitsubishi's innovative CONNECT driver interface that provides real-time vehicle data, remote entry, lock, lighting and climate controls, as well as SOS emergency call capability, all via smartphone or tablet. The Eclipse Cross model line employs an available, full-color, digital heads-up display (HUD) that projects essential driving data onto the windshield, maximizing driver alertness, passenger safety as well as enhancing overall user experience. The sporty state of the art compact crossover also includes the center-mounted, laptop-mouse-inspired Touchpad Controller system. The ergonomically designed, tactile pad allows Eclipse Cross drivers to navigate the vehicle's infotainment center without the need to take their eyes or attention off the road.
Get introduced to the Mitsubishi Eclipse Cross' stellar combination of aesthetically pleasing style, dynamic capability and budget-saving practicality. Click, call, or visit us at DON JACKSON MITSUBISHI to set up an obligation-free test drive today and experience the Eclipse Cross' full range innovative tech capabilities in person for yourself.